WE ARE A NONPROFIT ISLAMIC ELEMENTARY SCHOOL ON A MISSION TO PROVIDE AN
OUTSTANDING LEARNING EXPERIENCE IN LIGHT OF THE QUR'AN & SUNNAH
Asalaamu Alaikum Dear Parents,
As you will have learned, the Government of Ontario has ordered all publicly funded schools to be closed for two additional weeks after the March Break up to April 5th, 2020, as a precautionary measure in light of the COVID-19 Pandemic.
We have also been monitoring the situation and we will also be closed from Monday March 16th to Sunday April 5th 2020.
While we are closing to help ensure the health and safety of our students and staff, our education will go on inshallah! Towards the end of the March Break, we will send out an email and post on Google Classroom, the various online strategies we will be using to ensure our students are still receiving their core education.
What we need from you: Please ensure your children have access to google classroom, preferably on a laptop with a webcam and also have access to a printer at home (to print worksheets etc). To help your kids focus at home, setup a 'schooling' space where they are free from distractions and can get into work mode.
What you can expect from us: Teachers will be sending home notebooks, etc with your children and as appropriate for the subject and grade level, will be making content available online for our students. Detailed information on exactly how education will be delivered will be posted by the end of next week inshallah.
Also please note, all school events (Girls Gala, Boys Bash, Casa Assembly, etc. have been postponed until further notice).
During the two weeks after march break, teachers and administrative staff will be available via email during regular school hours.
Jazakallahu Khairun for your patience and support.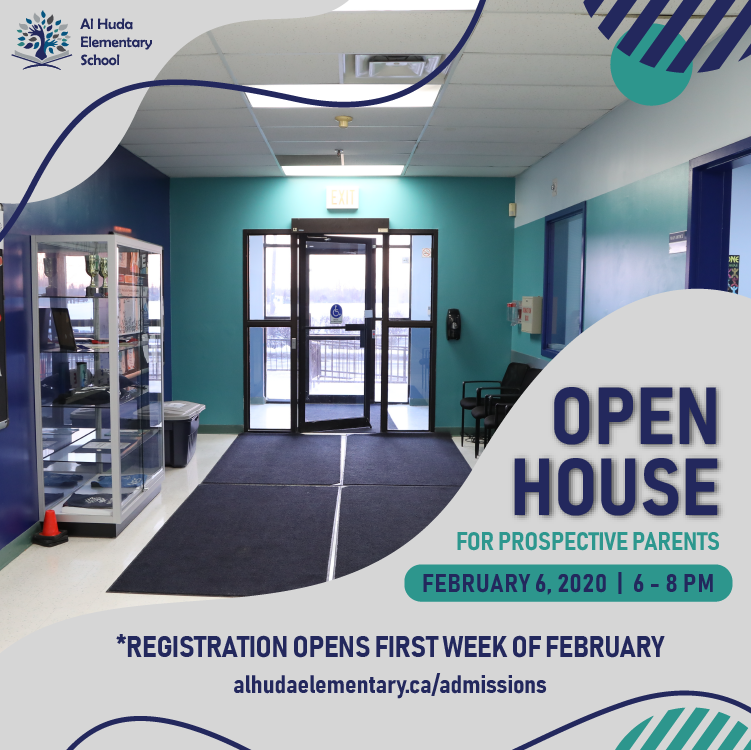 🌟Get a sneak peek inside the Al Huda Elementary School campus! Our OPEN HOUSE is on February 6th, 2020 from 6-8 pm! Get a tour of the school and meet the teachers!
📍Location: 1135 Central Pkwy W, Mississauga, ON L5C 3J2 (905) 270-2437
🔹Registration is opening in the first week of February for the 2020-2021 school year! Please inform all your family and friends!
For more info, please visit: alhudaelementary.ca/admissions for more details!
AHES School Year Calendar 2019 – 2020
​
January

Professional Activity Day  – Holiday

Monday, January 20th, 2020

February

Open House 

Thursday, February 6th, 2020 @ 6pm 

Report Cards to Parents

Thursday, February 6th, 2020

Professional Learning Day – Holiday

Friday, February 7th, 2020

Family Day – Holiday

Monday, February 17th, 2020

March

Spring Break (inclusive)

March 16th, 2020 – March 20th, 2020 

April

Good Friday – Holiday

Friday, April 10th, 2020

Easter Monday – Holiday

Monday, April 13th, 2020

May

Victoria Day – Holiday

Monday, May 18th, 2020

Eid Holiday *tentative*

Monday, May 25th, 2020

June

Professional Activity Day – Holiday

Monday, June 8th, 2020

Last Day of School

Thursday, June 25th, 2020 

Professional Development Day

Friday, June 26th, 2020
HERE ARE THE THREE THINGS THAT MAKE US DIFFERENT