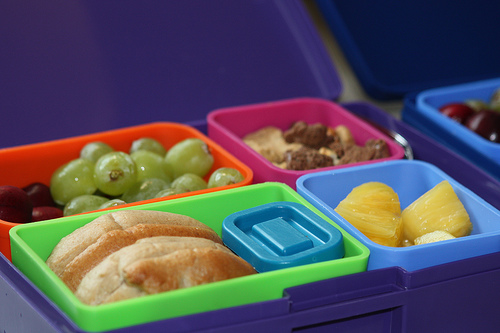 Allah Almighty says in the Quran: "Eat of the good things which We have provided for you." (Al-Baqarah: 173)
Why are healthy lunches and snacks important at school?
 Your child's school lunches and snacks are a major source of the essential vitamins and minerals they need to grow and develop over the years.
The foods you pack for your child will give them the energy and nutrients they need to learn and play at school. Without enough energy from food, they may feel tired and find it difficult to concentrate in class. Just like adults, if tasty healthy foods are not available when your child is hungry, the chances that he or she will reach for unhealthy junk food is greater.
When children eat right, they can improve their memory and their ability to concentrate. Eating well supports healthy growth and development.
 Get Kids Involved
Allowing children to choose and prepare their own lunch; keeps interest in the meal and makes it more likely for the kids to eat and enjoy their meal. Let your young child help make lunch the night before school for greater ease in the morning. You can help guide your children to the proper portions and healthy choices of whole grains, protein, and produce. Keep in mind, most elementary school-aged children are allowed a midmorning snack. Account for that when considering the amount of food you provide for lunch.
Make sure you have healthy fare on hand for your child to choose:
Whole-grain breads or crackers
Meat (sliced chicken , beef or ground beef)
Light canned tuna fish
Raw vegetables that can be cut into slices
Fruits
Encourage the kids to make sandwiches with whole-grain breads or bagels; tortillas; or colorful wraps. Try different sandwich fillings, such as beef slices with cheese in a pita pocket, grated carrots with chicken or a veggie burger.
Practical Lunch Tips
A sandwich made with lean meat, light tuna fish, fruit or vegetables; and milk or 100% juice is a fine meal for a growing child's lunch. You can boost nutrition and tantalize a child's taste buds by adding shredded carrot, chopped celery, or water chestnuts to egg salad or tuna salad. Combine chopped grapes with diced chicken and mayonnaise for a tasty chicken salad. And don't forget this popular standby: Add a sliced banana or apple to peanut butter sandwiches.
Here are some other yummy and easy lunches that use foods from at least three of the food groups:
Tortilla wraps with shredded cheese, chopped chicken, and cut vegetables
Whole Wheat or White Pasta with veggies and meat
Chicken or Beef kabab/patty in a bun or bread on the side and fresh vegetables
Steamed rice with chicken and vegetables
Egg salad, whole-wheat bagel, and fruit
Whole-grain roll with butter or margarine, 2 hard boiled eggs, and carrot sticks
8 ounces of low-fat yogurt, whole-wheat crackers, and fruit
1-2 tablespoons of cream cheese, whole-grain crackers or bagel, and fruit or vegetables
1/2 cup low-fat cottage cheese or hummus, whole-grain crackers, and cherry tomatoes
Bean-based soup or stew in a thermos, whole-grain roll with butter or margarine, and dried fruit
1-2 slices leftover thin crust cheese pizza and fruit or vegetables
Don't Forget Fun
Every kid clamors for junk food, and an outright ban rarely works. So offer healthier alternatives. Pack these fun foods for a healthy treat:
Baked potato chips
Homemade toasted pita bread chips
Pretzels
Trail mix or raisins
Whole-grain cereal
Graham crackers
Fig bars
Brain Food for Brain Power
The chart below lists brain foods, and their mental fitness benefits, which can enhance your child's brainpower.
Be sure to look for products that are made with more whole grains, less sodium and have fewer calories. They should also be low in saturated fat and free of trans-fats (be sure to read the label, sometimes foods that claim to be trans-fat free still contain partially hydrogenated oils). Make sure you pay attention to serving size, too, and balance out the processed foods with more fresh foods.
Sources:
http://www.webmd.com/a-to-z-guides/features/healthy-lunchbox-tips?page=2
https://www.eatrightontario.ca/en/Articles/School-Health/Articles/Healthy-lunch-ideas-for-the-new-school-year.aspx
http://www.drphil.com/articles/article/189
http://nutrition.about.com/od/askyournutritionist/f/processedfoods.htm